WHAT KEEPMOAT HOMES COULD DO TO YOU:
Set a completion deadline with their Estate Agent without your knowledge
Give your solicitor 2 weeks notice of the completion deadline (even though they gave their EA 5 weeks notice)
Miss-sell the house and then blame you for their miss-selling
Subject you to patronising and aggressive behaviour from their staff
Lie to you and withhold important information
Make sarcastic remarks and laugh at you behind your back "LOL"
Threaten you with Police and court action
WHAT THEIR STAFF COULD DO:
Keepmoat made it look like my husband had agreed to pay an annual management fee of £175 by forging his signature on a reservation form he had not seen. Keepmoat condone this because when my husband signed the original form (without the fee) he paid a reservation charge, they believe this gives them carte blanche to do what they like with his signature.
Keepmoat agreed a completion deadline with their Estate Agent without notifying us, our buyer or our solicitor. Keepmoat should not have agreed a completion deadline with the EA. They tried to pass the blame away by referring to the EA as an "independent sales agent" and "your agent". Except for the EA was being instructed and paid for by Keepmoat Homes under their EasyKey scheme.
Keepmoat gave our solicitor two weeks notice of the completion deadline at which point he informed them it was impossible to achieve. Keepmoat say they will give 5-6 weeks notice of completion. They held us to this impossible to achieve 2 week deadline anyway.
Keepmoat substantially miss-sold the house by failing to tell us that compared to the drawings we would be missing 4 windows and would have an internal bathroom. They blamed this miss-selling on us because we had refused to do a "plot schedule", except that they never asked us to do a plot schedule. Because we pointed out their miss-selling Keepmoat's staff became aggressive and patronising.
In order to resolve the miss-selling they later offered to install a solar tube free of charge in the bathroom. This offer is withdrawn several weeks after we commit to carrying on with the purchase as it is deemed too expensive to install. But instead of admitting the reason for withdrawing the offer they declare that they never offered to fit a solar tube free of charge in the first place.
Emails obtained through a Subject Access Request show how Keepmoat's staff were enjoying the misery they were causing. They "LOL" at the fact we could not complete within their 2 week deadline.
When we publish our story online Keepmoat not only accuse us of being liars, they also threaten to contact the Police and take us to court if we don't take the website down.
10 Months Later…
My husband is getting a little frustrated to say the least with the silly lets dodge the issue letters and sends a rather sarcastic response to Mark Knight (Keepmoat's Yorkshire Regional Managing Director) in attempt to point out the glaringly obvious about why the reservation form is a forgery. One of their staff had taken the original form he signed, cut off the bottom section, stuck it to the new form and scanned it onto their computer system. This form was also sent to theirs and our solicitor. For your reference here is a close up of the forged form (click to see a larger version):
From my husbands letter:
"I note that you chose to place emphasis on 'final response' in your correspondence. I interpret that this means that you will be taking your ball home and I will not be receiving any more cringe worthy replies from your office. I suppose there's only so much that a person can take. I think we both know that if our written exchanges had been a boxing match it would have been stopped a long time ago and my arm held aloft in victory.
If, on the other hand, I have misinterpreted the situation, I have saved you the trouble of actually formulating a response. Simply print off the last page of this letter and post it back to me. For your convenience I've used the correct postal address, I know it's posed problems in the past, and I've signed it on your behalf with all the subtlety that your company signed a reservation form on my behalf. Make sure you print it in colour. If it arrives in black and white I might mistake it for a picture of Angel Delight or the icing from a Midget Gem instead of the steaming pile of turd that it is."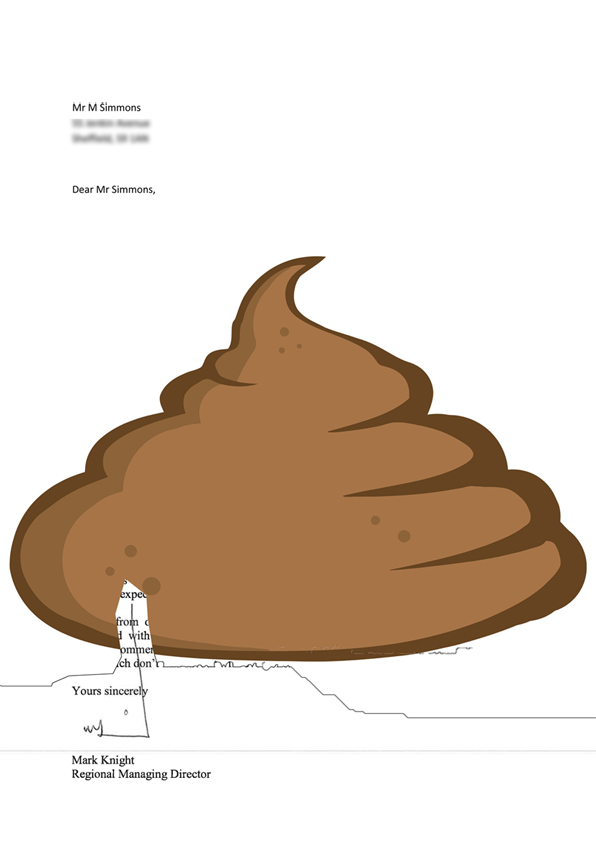 After trying to get anywhere with Keepmoat the Sheffield Housing Company step in. The SHC is a partnership between Keepmoat Homes and the Sheffield Council. Mark Knight is one of the directors of the Sheffield Housing Company.
As Mark Knight has washed his hands of the matter, Tom Fenton from the Sheffield Housing Company offers to complete an "independent investigation" into the complaint, mainly to give the investigation a veil of impartially and because Keepmoat's top brass can't be arsed to investigate themselves.
Tom Fenton is a director of both the Brearley Forge Management Company Limited and the Cutlers View Managment Company Limited. Cutlers view is another Keepmoat development within Sheffield.
The investigation does admit some mistakes but skims over some of the bigger issues by either giving a wishy-washy response or completely ignoring the question.
Well after the Sheffield Housing Company did a review into our complaint Keepmoat chose to respond again, after being prompted by my husband of course – not of their own accord. He wanted answers to some of these bigger questions. After several months of getting nowhere, being lied to, being accused of being liars and criminals, being threatened with Police and court action this is what Peter Hindley (Keepmoat Homes Managing Director) had to say:
"We accept the shortfalls highlighted by the Sheffield Housing Company report and have used this as a learning experience to help us develop and implement changes to our Customer Journey Processes and Procedures going forwards.
I would like to offer my apologies for your experience overall, which on this occasion has not achieved the levels of service we strive to provide for our purchasers."
The whole letter took up less than a quarter of a page, it probably took Peter Hindley longer to sign it then it did to get his PA to copy and paste the generic corporate bullshit.
We are still trying to ascertain why Keepmoat threatened us with the Police, as far as we are aware nothing we have done is criminal. My husband has asked Keepmoat several times what crime they believe we committed and every time they ignore the question.
UPDATE: 21/10/2014 – After asking Peter Hindley the question again about what crime we committed my husband received a letter. He has still not answered the question and now he is refusing to reply to any more correspondence. The question has proved too difficult for Mr Hindley, he even found it too difficult to sign this letter and got one of his staff to do it.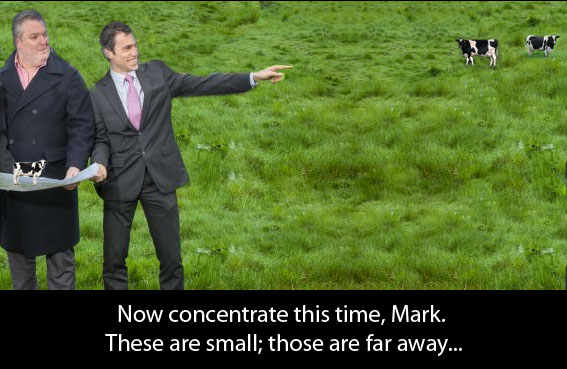 Original Homepage
Below is our original homepage but as so many things have changed since we first published our story we thought it was time to update the homepage. Some other pages on the site need updating and this will be done in due course.
We welcome comments, see the bottom of this page, and if anyone would like to submit their own review of Keepmoat Homes then please get in touch via our contact us page. We are happy to publish stories, both good and bad, about your experiences.
OLD HOMEPAGE:
In Brief
I have condensed the story and missed out a lot of detail as our story is quite long. My husband, however, goes into a lot more detail including emails received from Keepmoat – see My Story page.
If really don't like reading try listening to a song by Saxon called Wheels of Steel (http://www.youtube.com/watch?v=IwKRyizwEKo). Although the lyrics are irrelevant the songs epic nature, the fact that the song never seems to get started, listening to it is like banging your head against a brick wall, and the song ends in the same way it started except that you have wasted 6 minutes of your life pretty much sums up our experience with Keepmoat Homes. Except for us we wasted 6 months and over £2000.

EasyKey
The idea is that Keepmoat organise the marketing of your property and chase the Estate Agent when needed. This did not happen and they even managed to delay our house being marketed by 3 weeks.
We were mis-sold the house (Build type Loxley). It is missing a window in the bathroom as it is an internal bathroom rather than being on the outside wall. The living room, kitchen/dining room and master bedroom were meant to be dual aspect – instead they are missing one window in each room.
Instead of Keepmoat apologising for their mistake they blame us, try to make us look stupid and even became aggressive towards us.
They insist that the reason the orientation is different is because this Loxley is in a block of three. Except there is one problem, all the other Loxleys are in a block of three (apart from the showhome which is in a block of 4) have windows to the side, even the showhome in the block of 4 has them. When I point this out by showing them their own site map with the other blocks of 3 the staff became aggressive. Even after pointing out the block of 3 argument was nonsense they still insisted that that was the reason for the orientation. To to make it clear the Loxley we reserved was at one end of the terrace, obviously if we had reserved a mid terraced version of the house we would have known it would not have windows to the side.

Promised. Delivered.
After the mis-selling we take the matter higher up and we are offered a reimbursement of our kitchen upgrade (£550) and, we thought we were being offered a Solartube in the bathroom. We also have the option of pulling out completely as they offer to reimburse our out of pocket expenses if we choose to do so.
When we first reserved we had pretty much our pick of Loxleys, we were one of the first to reserve in May 2013. By now (end of August) all the other Loxleys had been reserved and we were stuck with either accepting the plot and Keepmoat's offer or pulling out completely. Because of our circumstances and, what we  believed was, the offer of a solartube we chose to stick with Keepmoat and the house – a mistake we later regret.
Later Keepmoat deny offering the Solartube and instead say that they were just looking into the possibility and it turned out they would not be fitting a Solartube. However, the news that they would not be fitting a Solartube came  6 weeks later and after we had gone around like headless chickens to secure a new buyer – see below. When we query the reimbursement of our out of pocket expenses it turns out Keepmoat will not cover all of them if we pull out just certain select ones.
Again we are now facing the choice of the house or not. Really we should have pulled out at this point as alarm bells should have been ringing but again due to our circumstances and the fact that we still liked the house we decided to carry on with the purchase.

Our Sale Falls Through
Although not Keepmoat's fault that the buyer for our current home pulled out they would not give us a reasonable amount of time to sell the house. We asked for a couple of weeks, which bearing in mind the 3 week delay caused by Keepmoat's inability to organise the sale of our house under their EasyKeys scheme, I did not think that this request was unreasonable. Their answer – you have two days or we put the house back on the market.
We sell the house to another buyer for 81k, our house is worth around 93-95k but we have no choice otherwise we the lose the Keepmoat house. 81K only covers our outstanding mortgage and early repayment fee, we don't have enough money in the bank to cover a deposit and solicitors fees, surveys, etc. We arrange a loan from family to cover the remainder we need.
We need to complete by the, 27th September,  25th October, or maybe the 31st of October, or maybe never?
On the 17th of October we are are told that we need to complete by the 25th this is then changed to the 31st. However our solicitor reassures that he has already spoken to Keepmoat Homes' solicitor and that we can not complete by then because our buyer can not complete yet. He advises that Keepmoat's end of year is the 31st and this is why they want to complete then – it is basically just a scare tactic used by them and they won't really pull out. The estate agent is being pestered by Keepmoat to get us to complete by the 31st or they will pull out. However, the estate agent thinks it is also a tactic and they won't really pull out. At this point we have had no direct communication from Keepmoat since the 17th.
On the 17th we are also told that our solicitor was faxed on the 3rd and 4th of September about a completion date of the 27th of September. However, our solicitor never received these faxes and it took until the 17th of October for Keepmoat's solicitor to chase this up. I find it very odd it took their solicitor 6 weeks to chase this up, especially when were apparently due to complete two weeks earlier. But as the house was not even ready then, and it had still not been signed off on the 17th of October it was impossible for us to complete on the 27th of September. Keepmoat's solicitor implies that Keepmoat are being generous when they extend the deadline to the 31st of October,  I think giving us only two weeks notice of completion is unfair (Home Builders Consumer Code says we should be treated fairly).
We then find out on the 5th of November, via the estate agent again, that Keepmoat Homes have sold the house to someone else. We only found out because the estate agent is chasing up us and Keepmoat for a progress report. It seems odd that Keepmoat have not told the estate agent to stop marketing our property and waited for the estate agent to contact them as they are paying their fees as part of EasyKey.
Keepmoat insist that they told us on the 1st of November that the house was being re-marketed. Later on we are sent a copy of this email. Unfortunately Keepmoat managed to send the email to the wrong person as they have typed in my husband's email address wrong. The incorrect email is actually a valid email address so someone unrelated to this knows what happened with our house sale. Great way to break the Data Protection Act Keepmoat.
Can we have the house?
Our solicitor advises us that if we can act quickly Keepmoat Homes might still sell the house to us. It takes our buyer 3 weeks to be ready to exchange but we ask Keepmoat anyway as it would be unlikely for the other buyer to be ready to exchange already – searches are taking around 2-3 weeks and other preliminaries are usually carried out before these are requested. We ask Keepmoat and get told we cannot have plot 42 as they are now selling it to someone else.
Keepmoat make no real effort to sell us an alternative plot, they say they can move our reservation fee to another plot but do not tell us which plots are available. I would have thought as we are ready to buy a house now they might have had least tried to talk us into buying another property, but instead they seem happier for us to walk away.

Reserved or not reserved?
Keepmoat cannot cancel a reservation as part of the Consumer Code of Conduct for Home Builders. However, it can expire if they give us a clear expiry date.
Keepmoat still have our reservation fee, which suggests that we still have a valid reservation. In my head it should work like this, Keepmoat can let the reservation expire and give us our money back. Or they carry on the reservation and keep our money. They can't cancel our reservation but make no attempt to give us our money back.
The END
So in summary we have have waited 6 months for the house to be ready, have had Keepmoat staff a few inches away from my face shouting at me, received a lack of communication, put up with a company which is happy to break the Code of Conduct they are obliged to follow, and broken the property misdescriptions act. You would think after all that really they should be the ones to lose out but sadly no – we have. We are over £2000 lighter and have no new home to show for it. However, Keepmoat are selling the house to someone else just so they can line their pockets a little quicker (if at all quicker, probably more likely through spite) than if they had stuck with us as buyers.
UPDATE 12/01/2014 : Sections marked in bold red are sections which we have amended since being notified by Keepmoat that our version of events is incorrect. Please see Keepmoat's Right of Reply for more details. We have not amended all of our story as we can disprove sections of Keepmoat's Right of Reply. 
Keepmoat have offered to cover our out of pocket expenses. Although this puts us back in the position we were in May last year (minus all the travel expenses of  visiting the site several times) it does not rewind the clock – we have still lost a significant part of a year messing about. We have missed out on other properties. And nothing can repair the emotional/mental damage caused by all the stress and hassle.
UPDATE 23/05/2014 : We have published several new pages, for anyone who interested the full time line is now available to view. For a much shorter version which covers some of the key points read the TIME LINE OF EVENTS SUMMARY/SHORT
UPDATE 16/07/2014: I have been considering this for for a few days now as it is something which has niggled at me. For anyone who has visited our website you will know that we had to change our story as Keepmoat claim they never offered a Solar Tube but I noticed something when we received documents via our Subject Access Request but I decided at the time to stick with our amended story, however, I don't see why I should – after all we told the truth the first time round unlike Keepmoat.
What niggles me is this, my husband sent a list of questions to Keepmoat one of which queried why Vanessa reneged on the offer of a Solar Tube. Two people wrote notes at the side of this question, one wrote "MK Overruled" and the other "RMD overuled did offer LED lighting".
Now just to make it clear to anyone in doubt (@Keepmoat Homes – because they need everything spelling out to them and even then they still don't get it), here is the definition of overruled according to Google:
overrule
verb
past tense: overruled; past participle: overruled
reject or disallow by exercising one's superior authority.

"Chief Judge Moran overruled the government's objections"

synonyms:
countermand, cancel, reverse, rescind, repeal, revoke, retract, withdraw,take back, rule against, disallow, override, veto, set aside, quash, overturn,overthrow, repudiate, recant, annul, nullify, declare null and void, invalidate,negate, void, abrogate; 

 

reject the decision or opinion of.

"welfare staff overruled an experienced detective"
So we can surmise from this Vanessa did offer the Solar Tube but the Regional Managing Director (Mark Knight) overruled her. So we didn't lie and we were offered a Solar Tube. I'm glad I got that off my chest – feels good to tell the truth, maybe you should try it sometime Keepmoat?
Keepmoat Reviews | Keepmoat Complaints | Sheffield Council | Sheffield Housing Company | Brearley Forge | Falstaff | Parson Cross New Homes | New Build Sheffield | Keepmoat Homes